On November 23 NoHoWest co-sponsored with Hope of the Valley an event at their Help Center on Tyrone and Victory. This event provided services and products needed by the homeless. NoHoWest handed out hats, gloves and scarves to 300 adults and children in need.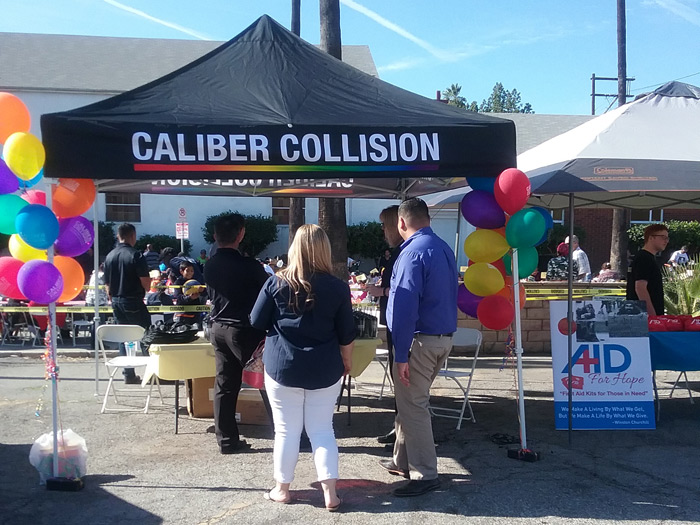 There were 29 Vendors there providing shoes, socks, tee-shirts, medical kits, warm clothes and food for animals , and so much more. Hope of the Valley helps the homeless in every way possible, but they don't enable them. They work with the people to help get their lives back on track. They also have a large licensed commercial kitchen where there is training for jobs in cooking, waiting tables, and kitchen prep. NoHo West used their kitchen for a large event where the trainees delivered, set up, served, and cleaned up. The food was Delish! If you need a clean and excellent group to cater your next event please contact Geronimo Lopez, Executive Chef, 818-632-7596, Geronimo.lopez@hopeofthevalley.org. Looking forward to a partnership with this wonderful group.
We received a kind thank you from Hope of the Valley:
On behalf of Hope of the Valley, I want to thank you all for your participation, support, and incredible generosity at our Resource Fair last Wednesday. The event was wonderful, and you guys rock! Hundreds of people left with a full tummy as well as lots of goodies and much needed items, made possible by you.
It is through partnerships and collaborative efforts that we are able to better serve the homeless, hungry and hurting in our community. Thank you all for your hearts of service, and for caring for those that are often times forgotten.
I wish you a wonderful and very Blessed holiday season!
Sincerely,
Laurie Craft | Site Director-Help Center