The newly painted Woodman Walls, where Woodman crosses under the train tracks south of Saticoy, were celebrated on Thursday, November 3 with a Ribbon Cutting with NoHo West Board Members and Council Member Krekorian.
The project was developed in partnership between NoHo West and Councilmember Krekorian who matched our contribution towards the $11,500 cost of painting the undercrossing. Krekorian noticeably pleased with the project, explained how the matching funds of his Neighborhood Council Beautification Grant Fund help uplift the community.
The Richard Stewart Painting Company was selected to complete the project. Stewart selected colors to coordinate with the colors of the "Now What?" mural by Myisha Arellano on the west side of Woodman. This mural looks from a distance like a large blue earth surrounded by an orange background. The mural is explained by text at the bottom, "A personal commentary on the choices made by International immigrants when they look at their possible futures in America." Figures are arranged in a circle kneeling as though looking in a reflecting pool. Each one sees themselves in the future looking back at them. Their futures include a soldier, graduate, chef, doctor, prisoner, businessperson, wife and more.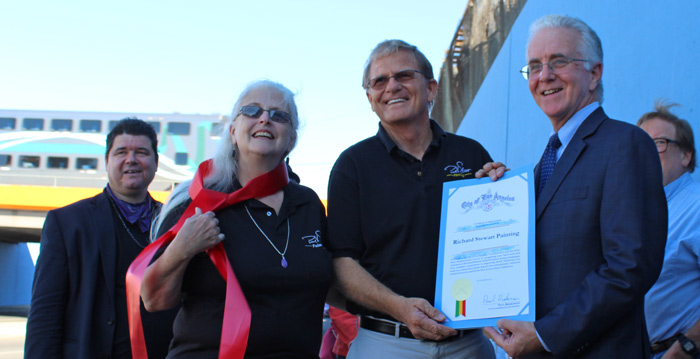 Stewart was asked to pick out something lively, so he chose to paint the walls a lighter blue called Maritime Blue to make the darker blue of the mural pop more. In honor of the Councilman and this beautification project, he renamed the color "Krekorian Blue". Likewise, the train overcrossing is painted with Instant Orange renamed "Metro Orange". When you drive north on Woodman the band of orange appears like a sunrise. He was thanked for his work with a certificate from Councilmember Krekorian.
The project required 50 gallons of primer and 50 gallons of paint. The real challenge was removing the years and years of  grey paint build up.
NoHo West President Radomir Luza enthused about the project that "it changes lives and perspectives as you drive down the street…like the Sistine Chapel of NoHo."
The project will be maintained by Neighborhood Watch, Graffiti Busters, and Metro with paint provided by Stewart. The hope is that as something beautiful is established in the neighborhood, people respect it and take care of it.